While the idea of hotel stays and couch surfing with the family hasn't completely gone away, the course of time has presented us with something new and exciting when it comes to vacation stay options. Luxury rental properties that can be booked quickly have become the latest trend sweeping the getaway scene worldwide. As someone who happens to own a prime piece of real estate, you might be wondering, "How can I get in on this new trend?" Here are a few things to keep in mind when it comes to renting out your main home or any number of vacation homes.
How Do You Market A Luxury Home?
Renting out a personal villa, expansive cabin, condominium, or other types of luxury homes is truly a great way to allow others to experience the city just the way you do. Visitors can feel comfortable and avoid annoyances such as having a shared hallway with strangers and a small single room. Instead, they can feel right at home while simultaneously getting the most out of their time spent out and about.
Create a listing for your home as a rental and advertise through social media. Ads with a firm call-to-action (CTA) button leading the user to rent will make the world of a difference compared to an advertisement in a magazine or newspaper. Utilize professionally shot photos and videos to make your online advertising come to life and stand out amongst the crowd. 
You may also want to consider reaching out to someone with experience in luxury real estate for advice. They just might turn you towards contacting a professional short-term property management company. A reputable management firm can assist with all of the small tasks and create a smooth transition to get your home available for rent quickly. A rental management company should be able to create ads, place your rental online, take any photos or videos needed, keep in contact with renters and other maintenance staff, and more.
All of these tips can also be used to answer the question, "How do you market a luxury apartment or How do I promote my villa?" 
How Do I Make My Vacation Rental Stand Out?
Get started by making sure you have the assets you need to showcase your home in the best light, literally! Set up a professional photography appointment and get an experienced photographer or videographer to take a variety of photos and live footage of your home at pristine times of the day. For example, your oceanside balcony may look stunning when the sun rises, but no one will know that unless they can see it themselves. Gorgeous photos and videos are sure to set your home apart from the rest.
Next, you can offer high-quality amenities similar to a hotel that makes it easier for potential guests to experience a true luxury vacation rental. Some amenities you should strongly consider include:
Cleaning service

Free Wifi and cable

Coffee or tea bar

Full use of the washer and dryer

Fresh linens and clean towels on hand

Fine toiletries and other personal care items

Personal chef
Providing first-class concierge services is a surefire way to elevate your listing and get people talking about your estate for years to come.
The Bottom Line
Luxury rentals are in huge demand right now. Whether there's a family looking for a seascape in a quiet town or a close group of friends eyeing a mountainside cabin, there is likely a need for your home on the renter's market. According to iProperty Management, vacation rentals are expected to take over the hotel industry within the year. It may come as no surprise as well that most vacation renters are Millennials who also make up for 40% of leisure travelers.
At Luxsy Palm Springs, we are an elite estate management company located in the ever-popular Coachella Valley. We offer a free financial analysis and the guarantee that property owners will be able to work closely with the CEO of Luxsy, Kevin Kaiser. With Luxsy's services, you can do less so that you can make more, up to $200K a year! Since we only manage 20 estates at a time, you know you'll receive top-of-the-line care for your home. Our goal is to offer clientele with an additional option to make more revenue easily through our services. We will go above and beyond to get your home online, marketed the right away, and listed as available for vacationers to rent.
Get your luxury home in the game now and market your luxury home rental online with Luxsy. We are committed to marketing your home to the right people, which allows us to help improve your ROI year after year. See the Luxsy difference and contact us today about listing your luxury home.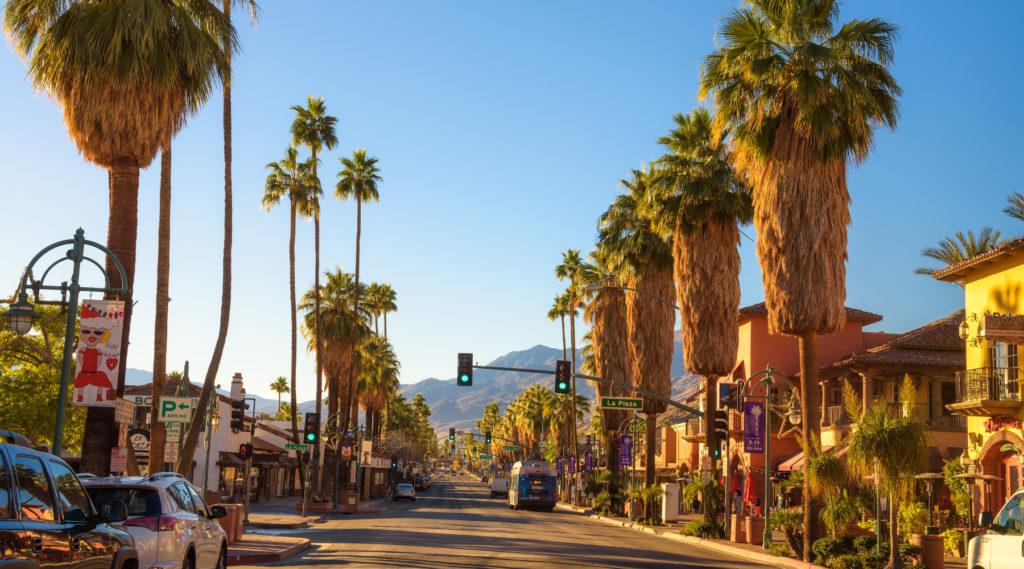 Palm Springs, California is known for its old Hollywood style and lavish, mid-century homes. With plenty of outdoor activities and luxury experiences, there's no better place to live like Frank Sinatra and enjoy the warm sun and blue skies. In fact, Greater Palm Springs has sunshine almost all year long, making it the perfect destination no matter the month. However, we wanted to determine the absolute best time to go to Palm Springs.
Fall Months
Temperatures in Palm Springs during the fall months are absolutely superb, especially in November. The heat of the summer has faded, golf courses are in full swing, and the town truly comes alive with socialites. With average temperatures of high 78 and low 50, it's the perfect time to experience Palm Springs to the fullest. Whether you want to play a round of golf or dip in a pool, November is the time to experience it all. Also, there are numerous festivals and local events to enjoy, including Palm Springs Vintage Market, McCormick's Classic Car & Auction, Props & Hops Beer Festival, and much more. Without a doubt, November is the best time to go to Palm Springs, however, that doesn't mean the other months have less to offer.
Winter Months
January may be too cold to go sunbathing, but it's perfect golf and tennis weather with average highs of 71 and lows of 45. February is perhaps the most popular winter month. Temperatures begin to heat up again and Modernism Week takes over the town. Modernism Week is an 11-day celebration full of art, architecture, fashion, shows, tours, and much more. Make sure to book events early enough in advance because they tend to sell quickly! Looking for an exciting time to visit Palm Springs? You can't go wrong with February. Practice your backswing on the golf courses or enjoy one of the many art festivals.
Spring Months
March and April are great times to visit the Palm Springs desert if you enjoy socializing or experiencing the occasional music festival. March has average highs of 80 and lows of 52—perfect weather, but brace yourself for spring breakers galore. However, we highly recommend checking out the well-organized BNP Paribas Tennis Tournament during this month. April is the music festival month, and perhaps one of the busiest times of the year. The vacationers are younger and ready to experience everything in this wonderful city. If you're in tune with this kind of crowd, we highly recommend checking out the Coachella Music Festival and Stagecoach Music Festival.
Summer Months
The summer months in Palm Springs are great if you want to stay away from the crowds and get the best deals. Get more for your money by taking advantage of local discounts at restaurants and local hotspots. In fact, the Palm Springs Aerial Tramway provides affordable summer passes. And, don't miss the yearly Splash House event, a popular pool party music festival!
Which season is best for you?
This all depends on your personal preference, but Palm Springs has something to offer everyone nearly year-round. If you want to experience the city to the fullest, we encourage you to visit during the Fall, Winter, and Spring months. If you're a golfer, you can't go wrong with November, February, or March. Music lover? April is your go-to month for world-famous music festivals. Or, you can go any time of year to experience the luxury homes in the area. With their classic, mid-century modern appeal, they have the old Hollywood charm you've come to expect from this timeless town.
Looking to schedule your next vacation in Palm Springs? Recently featured in Palm Springs Life, Luxsy Palms Springs is a boutique short-term management company in the Coachella Valley, offering luxurious rental experiences for vacationers. With industry-leading hospitality and technology, we exceed your every expectation. Luxsy is also a proud partner of L'Occitane. Each of our vacation estates has a selection of the finest L'Occitane products, including soaps, shampoos, hand creams, and much more. No matter what time of year you want to experience Palm Springs, choose Luxsy for your lavish desert getaway!