Palm Springs is a popular resort city in California that has been attracting visitors from around the world for decades. With its beautiful weather, stunning landscapes, and vibrant culture, it's no wonder that Palm Springs is a top tourist destination. If you're planning a trip to Palm Springs, there are plenty of things to see and do, and in this blog, we'll be sharing the top 10 activities to make the most of your stay. Additionally, we'll be mentioning Luxsy Palm Springs as a top-rated Superhost with amazing mid-century homes that will elevate your experience.
Visit Joshua Tree National Park Located about an hour's drive from Palm Springs, Joshua Tree National Park is a must-visit destination for outdoor enthusiasts. The park is home to unique rock formations, rugged mountains, and stunning desert landscapes. Whether you're into hiking, rock climbing, or stargazing, Joshua Tree has something to offer everyone.
Take a Hot Air Balloon Ride Take in the breathtaking views of Palm Springs and the surrounding areas from above on a hot air balloon ride. The colorful balloons float gently through the sky, offering a unique and unforgettable experience. Several companies offer hot air balloon rides in the area, including Fantasy Balloon Flights and Balloons Above the Desert.
Explore Palm Canyon Palm Canyon is a popular hiking spot that offers stunning views of the desert landscape. The trail is about 15 miles long and can be completed in a day, or you can opt for a shorter hike if you prefer. Along the way, you'll see breathtaking rock formations, desert flora, and maybe even some wildlife.
Visit the Palm Springs Aerial Tramway Take a ride on the world's largest rotating tramcar to the top of Mount San Jacinto. The ride offers incredible views of the Coachella Valley and takes you from the desert floor to an elevation of 8,516 feet. Once you reach the top, you can enjoy hiking trails, a visitor center, and breathtaking views.
Relax at a Spa Palm Springs is known for its luxurious spas, offering everything from massage and facials to hot springs and mineral baths. Treat yourself to a day of pampering at one of the many spas in the area, such as the Two Bunch Palms Spa Resort or the Spa at the Parker Palm Springs.
Visit the Living Desert Zoo and Gardens The Living Desert is a unique zoo and botanical garden that focuses on the desert ecosystem. The park is home to over 450 animals, including giraffes, cheetahs, and meerkats, as well as a variety of desert plants and flowers.
Explore the Palm Springs Art Museum The Palm Springs Art Museum is a must-visit destination for art lovers. The museum houses a collection of contemporary and modern art, as well as Native American and Western art. The museum also hosts temporary exhibits throughout the year.
Shop and Dine on El Paseo El Paseo is a popular shopping and dining district in Palm Desert, just a short drive from Palm Springs. The street is lined with high-end boutiques, art galleries, and restaurants, offering a unique and upscale shopping experience.
Take a Tour of Mid-Century Architecture Palm Springs is known for its mid-century modern architecture, and taking a tour is a great way to see some of the city's most iconic buildings. Several companies offer guided tours, including Palm Springs Mod Squad and Palm Springs Modern Tours.
Relax in a Luxsy Palm Springs home.  Lastly, to elevate your Palm Springs experience, stay in one of Luxsy Palm Springs' amazing vacation homes. As a top-rated Superhost on Airbnb, Luxsy offers stylish and comfortable homes in the heart of Palm Springs.  You can book online at www.luxsypalmsprings.com.
If you're looking for a new weekend getaway destination for your next girls' trip, look no further than Greater Palm Springs! With its beautiful scenery, sunny weather, historical charm, and Old Hollywood glamour, there is something for everyone in your girl gang to enjoy. Whether you are looking to leave the craziness behind and relax or you want to hit the town for unique restaurants and nightlife, Palm Springs has you covered. Keep reading for all the information you need to plan the perfect Girls Weekend in Palm Springs. 
Do You Need a Weekend in Palm Springs or More?
Although there is always something new to do in Palm Springs, a weekend is usually more than enough time to see the essential sights and have some fun! If you are coming from Los Angeles, making it a road trip could add to the experience; however, if driving isn't an option, Palm Springs has an international airport that 10 airlines fly into. With so many options available for transportation, you should be able to find something that gets you there quickly so you can spend your girls' trip enjoying the Coachella Valley. 
Is Palm Springs Expensive to Visit?
While there are certainly ways to make your weekend getaway a luxurious vacation, you can just as easily find ways to save money while still having a great time. Depending on where you choose to stay, there are plenty of options to fit every budget. Many of the local dining experiences in Palm Springs cater to a lower budget, and there are lots of outdoor and indoor sites and activities you can enjoy without breaking the bank. Even some of the Old Hollywood hotspots that were frequented by the likes of Frank Sinatra and Marilyn Monroe can be budget-friendly! Who knew taking a glamorous walk down memory lane could be so fun and affordable? 
If you are bringing all of your girlfriends, want to splurge, or would simply prefer the ease of being in a house, Luxsy Palm Springs is a vacation home rental agency that can match you with a great home away from home that will make your stay in Palm Springs perfect. 
What is There to do in Palm Springs in April-August?
Summer in Palm Springs is one of the quietest and cheapest times to visit. Because the Palm Desert gets warmer, it's easy to assume that there won't be anything you can do. But there is still lots to do if you choose to visit in the warmer months. If you are looking for a way to spend the daylight hours in Palm Springs without breaking a sweat, the Palm Springs Art Museum is a great place to pass time while enjoying air conditioning. There are also lots of fantastic restaurants with delicious foods; Cheeky's breakfast restaurant is a popular destination for both tourists and locals, with famous dishes like their bacon flight. If you are more outdoorsy, Palm Springs boasts beautiful scenery. The Aerial Tramway is the largest rotating tramway in the world and offers a stunning view from the top of San Jacinto Peak. A day at Indian Canyons is another way to get in some outdoor fun. The nature preserve has golfing, horseback riding, hiking, picnic areas, and a gift shop so you can bring something back for any friends that weren't able to join you!  In case you and your friends are more interested in shopping and enjoying restaurants and nightlife, Paseo Drive offers great shopping, with nearby restaurants where you can enjoy a cooling ice cream or unwind with a relaxing drink during happy hour. Check out our area guide for a complete list of ways to enjoy Greater Palm Springs. 
Luxsy Knows Palm Springs
Regardless of what you are looking to do during your hard-earned Palm Springs girls weekend, Luxsy Palm Springs can help you tailor your vacation for your specific needs. Our luxury rental listings are managed by experienced professionals that want to ensure that you and your travel companions have the best time possible. We make it our mission to go above and beyond to help you find a rental and to give you the resources you need to make the most of your time in our beautiful city. Contact us today to find out more about our rental properties and start planning your dream Palm Springs vacation!
Palm Springs is a beautiful city that has great shopping, dining, things to do for the whole family, and fantastic southern California weather year-round to boot. Because of its qualities, this crown jewel of the Mojave desert has some of the best real estate offerings in the country.
Because Palm Springs, CA is a popular luxury vacation destination, many real estate investors want to know the ins and outs of the local housing market and investing in Palm Springs properties.

Is it Good to Invest in Palm Springs Properties?
After the housing market crash in 2008, the Palm Springs' real estate market, along with the rest of the country, has slowly but surely made its comeback. Now that over 10 years have passed, people are once again turning to Palm Springs to purchase investment properties in the form of rental property and vacation homes.
Whether or not real estate in Palm Springs is a "good" long-term investment is entirely up to personal finances, what you want to do with the property, the market, and timing. If you are looking to purchase a luxury vacation rental, you are likely to see a solid profit because rental properties are a hot commodity in Palm Springs. Property owners working with high-quality property management companies can ensure that their rentals are presented to potential guests in the best possible light. If you are looking to buy a private vacation home for you and your family, your investment certainly has the potential to bring a substantial return, depending on when and if you decide to sell. The good news is that generally, barring any major market crashes, the value of your home is going to appreciate over time. Real estate investing anywhere has the potential for both profit and poor investment, but Palm Springs is a better place than most to put some skin in the game.
Is Airbnb legal in Palm Springs?
Airbnb has quickly become the premier online destination for booking short-term rentals at any price point. While it initially marketed to people traveling on a budget, they now offer extensive options at high price points that offer services that rival those offered at luxury hotels. With options like a personal chef and concierge services, potential guests can find everything they are looking for on luxury vacation Airbnb rentals.
Many cities have lots of rules and regulations regarding Airbnb and what practices jeopardize its legality; major tourist cities like Los Angeles and New York have some of the strictest Airbnb regulations in the country. While Airbnb is fully legal in Palm Springs, there are certain operating requirements that must be observed to ensure that your listing isn't operating illegally.

What Are Property Taxes Like in Palm Springs?
Annual property taxes are set at a rate of 1.25%, which can be paid annually or semi-annually. If you are purchasing your house with a loan, you can request to impound your taxes, which means that your lender will add the property taxes to your monthly payments.

Is Palm Springs a Good Place for Retirement?
Recent studies show that the area is getting "younger," with many creative types looking to retreat from the hustle and bustle of larger cities. With the ever-growing opportunities for many employers to work by telecommuting, especially in the tech industry, the number of people of pre-retirement age looking to move out to the desert is growing. In spite of this, the atmosphere is still very much just as laid back and peaceful as it always has been.
Having been long-championed as a place that older couples go to chip away at their 401k, the Greater Palm Springs area remains a great place to retire. The great weather, access to the beaches of southern California, the relative closeness of Los Angeles, and the slow pace of desert life are all big draws for those looking to retire.
Even if you don't make Palm Springs your full-time retirement residence, purchasing a home to escape to in the winter months could prove to be a solid investment; if you rent out your property when you aren't in residence, it could serve as a great source of secondary income to help pay for all those great trips that you want to take your grandkids on.
Where is the Best Place to Live in Palm Springs?
The Greater Palm Springs area is full of great places to live. Popular locations include Indian Wells, Palm Desert, Bermuda Dunes, La Quinta, Rancho Mirage, and Cathedral City. The Palm Springs area has lots of unique luxury neighborhoods that can cater to your every desire. 
If you are looking to invest in Palm Springs by way of purchasing a rental property, but are not convinced that you can handle the stress of day-to-day property management, look no further than Luxsy. We are a boutique, short-term vacation management company operating in the Greater Palm Springs area. Our mission is to provide vacationers with unique, incredible experiences with our collection of luxury vacation rental homes.
While the idea of hotel stays and couch surfing with the family hasn't completely gone away, the course of time has presented us with something new and exciting when it comes to vacation stay options. Luxury rental properties that can be booked quickly have become the latest trend sweeping the getaway scene worldwide. As someone who happens to own a prime piece of real estate, you might be wondering, "How can I get in on this new trend?" Here are a few things to keep in mind when it comes to renting out your main home or any number of vacation homes.
How Do You Market A Palm Springs Luxury Home?
Renting out a personal villa, expansive cabin, condominium, or other types of Palm Springs luxury homes is truly a great way to allow others to experience the city just the way you do. Visitors can feel comfortable and avoid annoyances such as having a shared hallway with strangers and a small single room. Instead, they can feel right at home while simultaneously getting the most out of their time spent out and about.
Create a listing for your Palm Springs luxury home as a rental and advertise through social media. Ads with a firm call-to-action (CTA) button leading the user to rent will make the world of a difference compared to an advertisement in a magazine or newspaper. Utilize professionally shot photos and videos to make your online advertising come to life and stand out amongst the crowd. 
You may also want to consider reaching out to someone with experience in luxury real estate for advice. They just might turn you towards contacting a professional short-term property management company. A reputable management firm can assist with all of the small tasks and create a smooth transition to get your home available for rent quickly. A rental management company should be able to create ads, place your rental online, take any photos or videos needed, keep in contact with renters and other maintenance staff, and more.
All of these tips can also be used to answer the question, "How do you market a luxury apartment or How do I promote my villa?" 
How Do I Make My Vacation Rental Stand Out?
Get started by making sure you have the assets you need to showcase your home in the best light, literally! Set up a professional photography appointment and get an experienced photographer or videographer to take a variety of photos and live footage of your home at pristine times of the day. For example, your oceanside balcony may look stunning when the sun rises, but no one will know that unless they can see it themselves. Gorgeous photos and videos are sure to set your home apart from the rest.
Next, you can offer high-quality amenities similar to a hotel that makes it easier for potential guests to experience a true luxury vacation rental. Some amenities you should strongly consider include:
Cleaning service

Free Wifi and cable

Coffee or tea bar

Full use of the washer and dryer

Fresh linens and clean towels on hand

Fine toiletries and other personal care items

Personal chef
Providing first-class concierge services is a surefire way to elevate your listing and get people talking about your estate for years to come.
The Bottom Line
Luxury rentals are in huge demand right now. Whether there's a family looking for a seascape in a quiet town or a close group of friends eyeing a mountainside cabin, there is likely a need for your home on the renter's market. According to iProperty Management, vacation rentals are expected to take over the hotel industry within the year. It may come as no surprise as well that most vacation renters are Millennials who also make up for 40% of leisure travelers.
At Luxsy Palm Springs, we are an elite estate management company located in the ever-popular Coachella Valley. We offer a free financial analysis and the guarantee that property owners will be able to work closely with the CEO of Luxsy, Kevin Kaiser. With Luxsy's services, you can do less so that you can make more, up to $200K a year! Since we only manage 20 estates at a time, you know you'll receive top-of-the-line care for your home. Our goal is to offer clientele with an additional option to make more revenue easily through our services. We will go above and beyond to get your home online, marketed the right away, and listed as available for vacationers to rent.
Get your luxury home in the game now and market your luxury home rental online with Luxsy. We are committed to marketing your home to the right people, which allows us to help improve your ROI year after year. See the Luxsy difference and contact us today about listing your luxury home.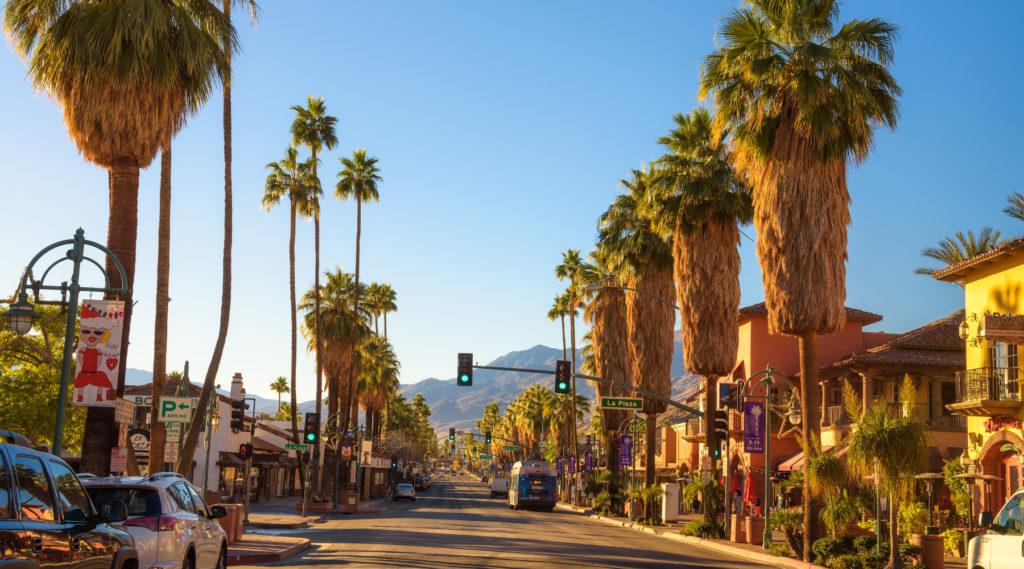 Palm Springs, California is known for its old Hollywood style and lavish, mid-century homes. With plenty of outdoor activities and luxury experiences, there's no better place to live like Frank Sinatra and enjoy the warm sun and blue skies. In fact, Greater Palm Springs has sunshine almost all year long, making it the perfect destination no matter the month. However, we wanted to determine the absolute best time to go to Palm Springs.
Fall Months
Temperatures in Palm Springs during the fall months are absolutely superb, especially in November. The heat of the summer has faded, golf courses are in full swing, and the town truly comes alive with socialites. With average temperatures of high 78 and low 50, it's the perfect time to experience Palm Springs to the fullest. Whether you want to play a round of golf or dip in a pool, November is the time to experience it all. Also, there are numerous festivals and local events to enjoy, including Palm Springs Vintage Market, McCormick's Classic Car & Auction, Props & Hops Beer Festival, and much more. Without a doubt, November is the best time to go to Palm Springs, however, that doesn't mean the other months have less to offer.
Winter Months
January may be too cold to go sunbathing, but it's perfect golf and tennis weather with average highs of 71 and lows of 45. February is perhaps the most popular winter month. Temperatures begin to heat up again and Modernism Week takes over the town. Modernism Week is an 11-day celebration full of art, architecture, fashion, shows, tours, and much more. Make sure to book events early enough in advance because they tend to sell quickly! Looking for an exciting time to visit Palm Springs? You can't go wrong with February. Practice your backswing on the golf courses or enjoy one of the many art festivals.
Spring Months
March and April are great times to visit the Palm Springs desert if you enjoy socializing or experiencing the occasional music festival. March has average highs of 80 and lows of 52—perfect weather, but brace yourself for spring breakers galore. However, we highly recommend checking out the well-organized BNP Paribas Tennis Tournament during this month. April is the music festival month, and perhaps one of the busiest times of the year. The vacationers are younger and ready to experience everything in this wonderful city. If you're in tune with this kind of crowd, we highly recommend checking out the Coachella Music Festival and Stagecoach Music Festival.
Summer Months
The summer months in Palm Springs are great if you want to stay away from the crowds and get the best deals. Get more for your money by taking advantage of local discounts at restaurants and local hotspots. In fact, the Palm Springs Aerial Tramway provides affordable summer passes. And, don't miss the yearly Splash House event, a popular pool party music festival!
Which is the Best Time to Go to Palm Springs for You?
This all depends on your personal preference, but Palm Springs has something to offer everyone nearly year-round. If you want to experience the city to the fullest, we encourage you to visit during the Fall, Winter, and Spring months. If you're a golfer, you can't go wrong with November, February, or March. Music lover? April is your go-to month for world-famous music festivals. Or, you can go any time of year to experience the luxury homes in the area. With their classic, mid-century modern appeal, they have the old Hollywood charm you've come to expect from this timeless town.
Looking to schedule your next vacation in Palm Springs? Recently featured in Palm Springs Life, Luxsy Palms Springs is a boutique short-term management company in the Coachella Valley, offering luxurious rental experiences for vacationers. With industry-leading hospitality and technology, we exceed your every expectation. Luxsy is also a proud partner of L'Occitane. Each of our vacation estates has a selection of the finest L'Occitane products, including soaps, shampoos, hand creams, and much more. No matter what time of year you want to experience Palm Springs, choose Luxsy for your lavish desert getaway!